So when you've been into any fashion for a decent amount of time, you start to develop all kinds of lists. Favorite styles, dislikes, favorite brands, etc. Well I've finally narrowed my list of dream prints to a measly 10! So in no particular order, here we go!
Alice and the Pirates - Queen's Coach OP - Pink
I don't normally like really frilly high necked dresses but I have to make an exception here. The overdress style tugs on me as does the long bell sleeves. The print is very reminiscent of the Rococo era and the entire thing just exudes elegance.
Baby the Stars Shine Bright - Alice Portrait - Sax
The gold has a nice effect against the blue and the size difference among them is just chaotic enough to look well put together. The white frill on the torso is nice as long as the strand of pearls.
Angelic Pretty - Sugary Carnival - EVERY COLOR @_@
How can you claim to be a sweet lolita and NOT want this print? Okay, seriously though the carnival ponies are adorable, the border around the top and bottom adds a nice touch to the dress and the lace has carnival ponies on it as well.
Angelic Pretty - Melty Chocolate - PinkxBlack
Okay, so there is a ton going on here. The buttons? Chocolate shaped. The lace has a chocolate pattern. And the pattern itself is absolutely delicious looking. And the stripes add a nice contrast to the entire thing.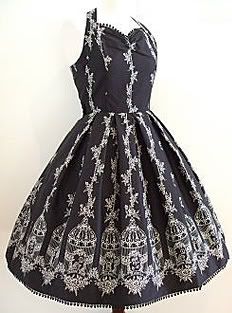 Innocent World - Rose Basket Angel - Black
The unique neckline, the repeated birdcages, and the rose garlands that hold them up make this one of my dream prints.
Victorian Maiden - Rose Basket - "Framboise"
The cream and pink stripes are to die for on their own. Add in that bordeaux ribbon and the gold detailing and you have a clear winner in my eyes.
Alice and the Pirates - Vampire Requiem - Red
I love seeing brands that I usually consider sweet or classical branch out and do something more bitter. The gate, the castle, and the flying vampires are all incredibly wonderful.
B
aby the Stars Shine Bright - Kitten and Room of Sweets - Black
How can you go wrong? You have bows. You have macaroons, cakes, cream, and KITTENS! Kittens sitting on big pink cushions. Kittens strutting past sweets with giant big bows. KITTENS!